Aluminum Diamond Mesh
Aluminum expanded metal is made from solid aluminum sheet that has been simultaneously slit and stretched, forming non-raveling mesh with uniform diamond shaped openings. It is lighter but more rigid than an equal weight of solid aluminum sheet.
Aluminum expanded metal, as the most versatile and economical expanded metal mesh product, which is widely used in construction, decoration, security guards, industrial, ventilation, etc. Aluminum expanded metal is made from the sheets or coils of carbon steel, which are uniformly slit and stretched, forming a diamond pattern of openings in the finished sheet. They have various of patterns by the adjustment of thickness, strand and the size of the diamond openings.
Features
Durability: Aluminum is a durable material that can withstand various environmental conditions without rusting or corroding. This makes aluminum diamond mesh suitable for both indoor and outdoor applications.
Slip Resistance: The diamond pattern on the surface of the mesh provides excellent slip resistance, making it a safe option for areas where traction is essential, such as ramps, stairs, and industrial flooring.
Lightweight: Compared to other metals like steel, aluminum is lightweight, which makes installation and handling more manageable. This property is particularly advantageous when weight is a concern.
Aesthetic Appeal: The diamond pattern on the mesh adds a visually appealing texture to surfaces, making it popular for decorative applications like wall cladding, truck bed liners, and interior design elements.
Easy to Clean and Maintain: Aluminum is easy to clean, and the raised diamond pattern reduces contact with the surface, making it less prone to collecting dirt and debris. Regular cleaning is generally sufficient to maintain its appearance.
Corrosion Resistance: Aluminum has a natural oxide layer that protects it from corrosion, adding to its longevity and reducing the need for frequent maintenance.
Versatility: Aluminum diamond mesh is available in various thicknesses, sizes, and finishes, making it versatile for a wide range of applications in industries such as transportation, construction, and manufacturing.
Heat and Electricity Conductivity: Aluminum is an excellent conductor of heat and electricity, making it suitable for applications requiring heat dissipation or electrical conductivity.
Recyclability: Aluminum is highly recyclable, making it an environmentally friendly choice. Recycling aluminum requires significantly less energy compared to producing it from raw materials.
Cost-Effective: While aluminum may be initially more expensive than some other materials, its long lifespan, low maintenance requirements, and recyclability contribute to its overall cost-effectiveness in the long run.
Specification
● Thickness: 0.3mm- 10.0mm
● Strand: Regular or customized
● SWD*LWD: 2*3, 2*4, 3*5, 4*8, 5*10, 7*12, 8*16, 10*20, 16*30, 18*30, 20*40, 25*50, 30*60, 40*80, 45*100, 50*100, 60*120mm, etc.
● LWM: Less than 3000 mm
● SWM: customized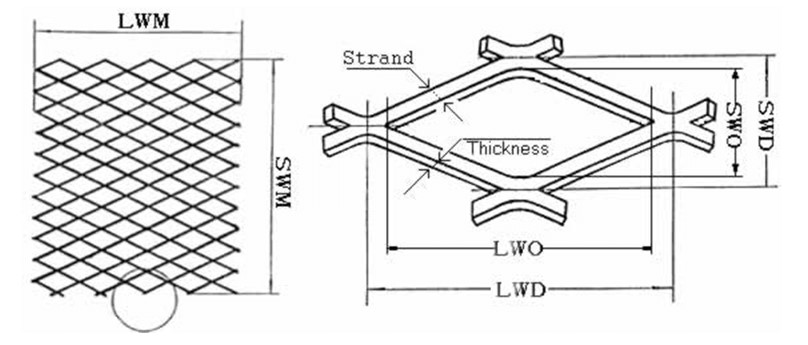 Application
Flooring and Stairs: Aluminum diamond mesh is widely used for flooring and stair treads in commercial buildings, industrial facilities, and public areas where slip resistance is crucial for safety.
Truck Bed Liners: Its durability and slip-resistant surface make it an excellent choice for truck bed liners, protecting the truck's cargo area and preventing items from sliding during transport.
Wall Cladding: Aluminum diamond mesh adds an attractive texture to walls and is often used for decorative purposes in interior and exterior wall cladding.
Toolboxes and Storage Units: Aluminum diamond mesh is used to construct durable toolboxes and storage units that are lightweight and resistant to corrosion.
Trailers and RVs: It is commonly used for trailer flooring and on the exterior of recreational vehicles due to its lightweight and durable properties.
Platforms and Catwalks: In industrial settings, aluminum diamond mesh is employed for platforms and catwalks, offering a safe and sturdy walking surface for workers.
Industrial Walkways and Ramps: For industrial environments requiring slip-resistant walkways and ramps, aluminum diamond mesh is a popular choice.
Marine Applications: Aluminum diamond mesh is utilized in the marine industry for boat decks, gangways, and docks, as its corrosion resistance helps withstand exposure to water and salt.
Architectural Accents: In architecture and interior design, aluminum diamond mesh is used for decorative elements like ceiling tiles, wall panels, and room dividers.
Machine and Equipment Protection: It is applied as protective panels on machines and equipment to safeguard against wear, impact, and damage.
Retail Displays: In retail settings, aluminum diamond mesh is used for shelving, display racks, and stands, adding an industrial and modern look.
HVAC Systems: The material is used for air vent covers and HVAC grilles due to its ventilation properties and corrosion resistance.
Automotive Accessories: Aluminum diamond mesh is incorporated into various automotive accessories like running boards, mud flaps, and fender guards.
Sports and Recreation: It is utilized in sports equipment like trailer ramps, skateboard ramps, and athletic flooring in gyms and recreational centers.
Electrical Enclosures: Aluminum diamond mesh is used to fabricate electrical enclosures, as it provides good ventilation and dissipates heat effectively.